Sold Out - Backorder Available
Calculate Shipping
For collection from Melbourne Warehouse please proceed to checkout.
We are Australia's Original Specialist Supplier of PREMIUM GRADE Mexican Outdoor Fireplaces otherwise known as Chimineas.
Our genuine Mexican Chimineas are handcrafted, clay, wood burning outdoor fireplaces and we have hands on experience from many years of dealing with the actual artisans that hand make each and every Chiminea.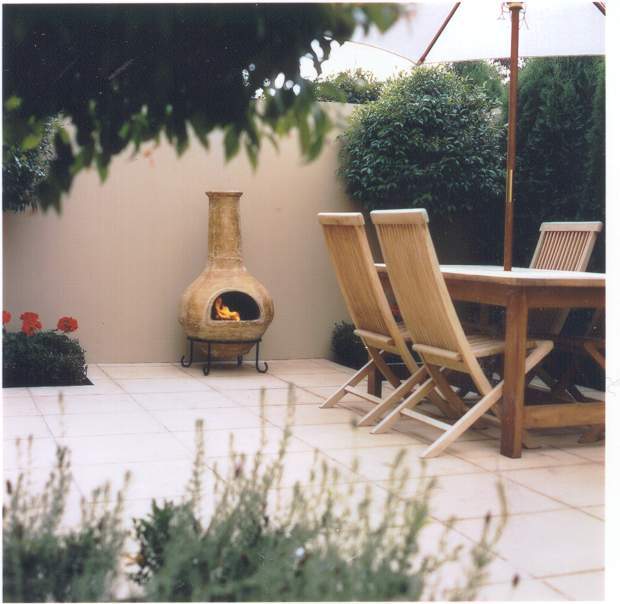 What you need to know about Clay Chimineas
Firstly a Clay Chiminea must be made in Mexico, but not just anywhere in Mexico as they must be made from the correct blend of volcanic clays,which come from one small region in Central Mexico and secondly they must be fired properly. Unfortunately many of the Mexican chimineas are of very poor quality so you need to be careful!
To identify a good quality Mexican Chiminea from a poor quality one simply read the instructions. POOR QUALITY Chimineas require curing i.e. they will tell you to light several small fires, building the heat up gradually over several occasions to begin with and they may also tell you to cover them out in the rain. Either of these instructions are WARNING BELLS that a Chiminea has not been made or fired properly and are therefore less durable and prone to cracking.
We only sell premium quality Chimineas that are made properly from the correct clay. None of our Chimineas require curing and it is fine to leave them outside in the rain. NO RAINCOATS REQUIRED!
Do not be fooled by price alone when looking at Chimineas.With the increasing popularity of Chimineas there are a lot of inferior quality copies being made in both Mexico and Asia. Please benefit from our specialist advise & expertise! "The bitterness of poor quality is remembered long after price is forgotton!"
In saying all of that in recent years we have imported limited numbers of the Mexican clay chimineas so it's best to call to see what we have in stock before coming to our showroom.
The reason we've stock less of the clay in recent years is that our cast iron chimineas have become more poplular due to their increased lifespan, increased heat, cleaner burn and the optional cooking attachments.
We also stress to customers considering a clay chiminea that If you have teenage or adolescent kids & or any other over zealous fire lovers in the household we stronly advise agianst clay chimineas as they can and will break if over fired and mistreated. After all it is made of clay which is breakable & although a good quality clay chiminea should last for approx 3-5 years any chiminea can be broken if over fired, mistreated or hit by hard objects which can include anything from kids balls & bikes to a piece of fire wood. Clay also don't like to moved after use as they become brittle and moving them will generally cause breakage. The difference between a good quality clay chiminea and a bad one is it's lifespan will either 5 months or 5 years.
If you want a no fuss, no hassle buy one and have it forever, literlly for generations we recommend the Aussie Heatwave cast iron chiminea as the best option.
Pricing: Small $265 , Medium $390, Large $475, Jumbo $650 (includes wrought iron stand, bag of sand & rain lid).
Cast Iron Chimineas
For more information and to compare check our our Cast Iron Chiminea range.
(CH07)

Delivery And Shipping
Deliveries on the East coast of Australia generally take between 2-7 working days. However, if your order is urgent please advise us and we can endeavour to speed up delivery. For the West coast of Australia and far north Queensland & the NT, you should allow approx 3-10 days for delivery depending on your location.
Home Deliveries
All freight comes shrink wrapped on a timber pallet and the freight company will call you to advise a delivery day. For large items someone is required to be at home to receive the goods but with smaller accessories you can give the freight company authority to leave the goods at the front door if nobody is home.
Larger items include products such as the Chiminea and firepits and these will arrive on a pallet. Goods can be taken off the pallet and trolleyed individually to your desired location. Due to health and safety rules and insurances the Freight company will not enter your home or deliver to your back garden. They are only authorised to deliver the goods to the nearest level access carport or front door. If the drive or access is very steep or not easily accesses they will only deliver as far as the nature strip or nearest levels access.
We find that this general freight service is adequate for 95% of customers however if you feel you require a more comprehensive delivery service we can arrange a furniture removalist which will generally entail two men and they will deliver the goods and place them in the exact required location within your property. This service incurs additional costs and you will need to call or send us an email requesting this upgraded service. As a cost guide, depending on your location, this delivery service will be approximately double that of our standard delivery.
Depot Collection
The freight depot will call you when your goods arrive and are ready to collect. If you haven't heard from anyone after a week from the time of your order please contact us and we will chase them up. The goods will most likely have arrived and they have just neglected to call and advise you that they are ready to collect. You can collect your goods from a depot and they will easily fit into a station wagon, 4WD or UTE. The goods can be taken off the pallet and loaded into your car lying down or in the case of a UTE the whole a pallet will be forklifted into the back.
Occasional delays in freight can occur particularly in the busier times around Christmas and Easter. Generally we find everything runs according to plan but as the freight company is an independent contractor we have no control of events once its leaves our warehouse.
Damaged During Delivery
All goods are insured, but given the nature of our products we very rarely have any problems with damaged goods. In fact over the past 15 years there have only been a very few damaged items but in the event your item is damaged in transit it will be replaced.
Be The First To Review This Product!
Help other Aussie Heatwave Chiminea users shop smarter by writing reviews for products you have purchased.

"Thanks for the great service & quick delivery! We had a group of friends over last night fired it up and cooked pizza's and lamb chops. Everyone was warm and well fed. It's everything you said it would be. Awesome! Thanks for your help."

Andy - "Brumbies - Head Coach" ACT
"We are really enjoying our new chimmy in Lakes Entrance & shared the experience with our friend Bill from NZ who were staying with us for a couple of nights. There is just not anything comparable to your Chiminea!"

Thanks, Ashley
"Thank you for convincing me to buy the cooker!! Can't say how happy my wife and I are with that purchase. The only thing annoying us is we've had several total fire ban days in our area, so we haven't been able to use it on a few days but when we can, we are cooking on it constantly. Absolutely love it! Pizza's, chicken! Lamb! All awesome. Have always been afraid to cook chicken on a bbq, but so happy with the cooker."

Thanks and All the best. Mick T.